Bland Construction – Rockdale, Milam County Home Repair, Remodeling, Contractor, Additions, Bathrooms, Kitchens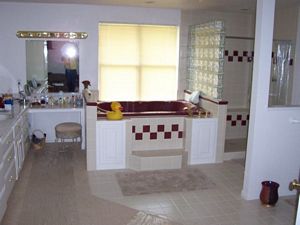 Remodeling your bathroom is the one change in your home that will have the greatest effect on your quality of life. Most people are looking for more luxury and more overall space and storage in the bathroom.
Contact us today at 512-446-2693, or fill out our online request form
 Some of our most requested services are:
Replacing old bathtubs with whirlpools
Expanding shower stalls into walk-in showers
Replacing the older toilet designs with new
low-consumption contemporary looking designs.
Handicap Accessibility Services
Cabinetry
Ceramic Tiling
LightingA well-designed bathroom will make a difference in the way your day begins!